Upcoming Cooking Club Event:
Join us October 26th, 4:30pm for a "Cook with Me" demonstration.  One of our members, Julie T., will be guiding us through a Signature Cocktail, Main course & Dessert via Zoom.  Look for your invite from the CookingClub email.  We will send a Zoom link the day of the event.
Recipes will be provided in advance to do your grocery shopping.
Also save the date for December 7th "Best thing for the Holidays"
If AAUW Members would like to join the group send an email to CookingClub@tahoenvaauw.org
---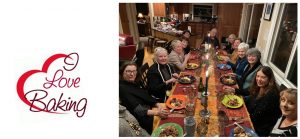 The Cooking Interest Group holds dinners once a month.
We held one via Zoom, and may try more of a "cooking class" idea next.
Our Lead, Peggy P., comes up with some wonderful themes and recipes.
We have about 10-14 participate in a dinner at a rotation of homes.
Each member makes a part of the meal and we discuss techniques.
If AAUW Members would like to join the group send an email to CookingClub@tahoenvaauw.org