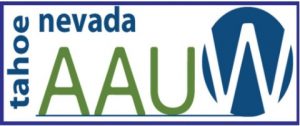 This is the official Web site of AAUW Tahoe-Nevada Branch. Please explore the site to find out who we are, what we are doing, and how to join us.  Our mission aligns with that of AAUW National: "To advance gender equity for women and girls through research, education and advocacy".
VISIT www.womenshistory.org to learn more about

March: Women's History Month.
Your year end donations to our scholarship fund are greatly appreciated.  AAUW Tahoe-Nevada offers scholarships for high school graduates attending college.  These are renewable yearly.  Scholarships are awarded in May each year.  https://tahoe-nv.aauw.net/donate
More on Scholarships, click here:  https://tahoe-nv.aauw.net/scholarships/
Our Facebook Donation drive also brought in some additional funds, $1625.  Thank you to all our Facebook Friends.