LUNAFEST2020 FILM FESTIVAL
For those that were not able to join us, we all LOVED the films and the discussion.   We were honored to have a director, Lizzie Maxwell, join us as well as some of her actors and actresses.   Here is Lizzie's film for your enjoyment. This one was done on a "no budget":
       PLEASE join us next year in 2021, hopefully in a theater
Send any comments or feedback to events@tahoenvaauw.org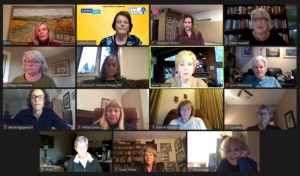 Suzie Evans kindly donated a lovely Fall Door Prize that went to Peggy Poindexter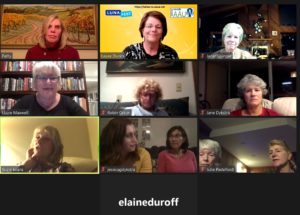 Trader Joe's Reno donated our 2nd Door Prize won by Laura Durica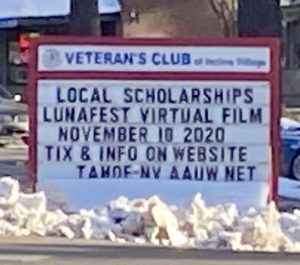 The Veteran's Club shared their Marque with us on Village and Lake Tahoe Blvd.
View the Film trailer, visit:  LunaFest Trailer
Learn about the FilmMakers, visit:  Filmmaker Information
---
AAUW Tahoe Nevada is hosting a virtual LUNAFEST film festival fundraiser to benefit our Scholarship Fund.  The event will take place on November 18-19, with a Zoom discussion on November 19th,  4:30 pm or 6:30p.m.  PLEASE JOIN US by viewing these films at your leisure (in a 24 hour window starting at 4:30pm, Wednesday, 11/18) in the comfort of your own home!
We are having a guest speaker at our Zoom, a movie director along with a door prize, but you can also just enjoy watching the movies with some popcorn on your couch or with your bubble, knowing you helped towards our yearly scholarships.