---
AAUW Tahoe Nevada is hosting a virtual LUNAFEST film festival fundraiser to benefit our Scholarship & Education Funds.  Enjoy a night in with #LUNAFEST, the world's first traveling film festival by women and about women. Grab your link and popcorn and join us for a virtual screening of these exciting documentaries.  Consider asking over a few friends for pizza and showing the films with a discussion afterwards.  We have added a BONUS viewing, come to the Parasol Building in Incline Village, Nv on Saturday, Nov. 6th, 2:30-4:30, a reservation is required when you purchase your ticket, space is limited.
The event will take place on November 5th, 4:00pm PST with viewing for 48hrs and a Zoom discussion on the evening of November 7th.  PLEASE JOIN US by viewing these films at your leisure in the comfort of your own home from any WiFi connection or come to the Parasol Building. You will receive an email the morning of Nov. 5th with the link from "Events@tahoenvaauw.org" (check your spam).    
To view on a Smart TV you will use the TV browser to type in the url we send you.  Some TV interfaces may allow you to add the VIMEO App (It is like adding & watching YouTube)
Tickets are $30 individuals, $50 households.  Recommended for age 16+.
Send any questions to: events@tahoenvaauw.org
"Films don't just tell a story, they tell our story, they shape a culture"
Check out the video about LUNAFEST and the Films: Learn about LUNAFEST
View a trailer about the short films: Trailer on the Short Films of LUNAFEST 2021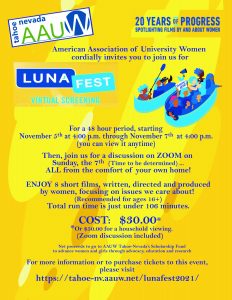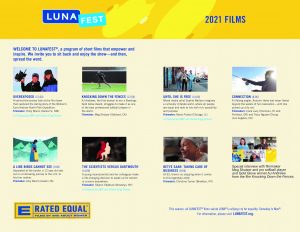 Buy LunaBars at a 20% discount.
Make your favorite Popcorn or Charcuterie Board
Rosemary Parmesan Popcorn • FIVEheartHOME
How to Make a Charcuterie Board – Spend With Pennies